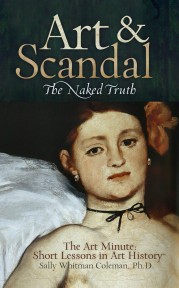 Announcing the first ebook by Sally Whitman Coleman, PhD, author of The Art Minute!
Art and Scandal: The Naked Truth is a collection of 23 short essays and images designed for contemporary audiences who want to know more about art history but don't have time for classes or traditional art tomes.
This concise, engagingly written eBook takes you inside the scandals that shook—and shaped—the art world dating to the early 16th Century. Some seem tame by today's standards while others are as risqué as they were in their time.
"It may be hard to imagine that Michelangelo's powerful frescos and John Singer Sargent's lovely portraits were as controversial as artworks by today's artists. Yet from the Renaissance on, artists, with their vision and craft, have threatened tradition and created a public uproar. This type of daring creativity is the artists' agent of change that ultimately generates and defines the shape of art history."
This book is only available in an electronic format.  To purchase one for your eReader, click on the Kindle, iTunes, Nook or Kobo icon to the right.