According to Boston.com, federal officials have intensified their activity in the investigation of the theft of several masterpieces from the Isabella Stewart Gardner Museum that occurred over two decades ago.
On March 18th 1990, two thieves posing as police officers entered the museum, tied up the security guards on duty, and drove away with an estimated $500 million worth of fine art.  Among the works of art the thieves stole were Jan Vermeer's The Concert, Rembrandt van Rijn's The Storm on the Sea of Galilee, Chez Tortoni by Édouard Manet, several drawings by Edgar Degas, an ancient Chinese vessel, and a finial from the Napoleonic era.
In the hopes of recovering leads, federal officials will begin a public awareness program inspired by a similar program that led to the arrest of the notorious mobster, Whitey Bulger, who they believe has some information about the crime.  Recently, they focused their search on the late Robert Guarente, searching two of his homes for the stolen art.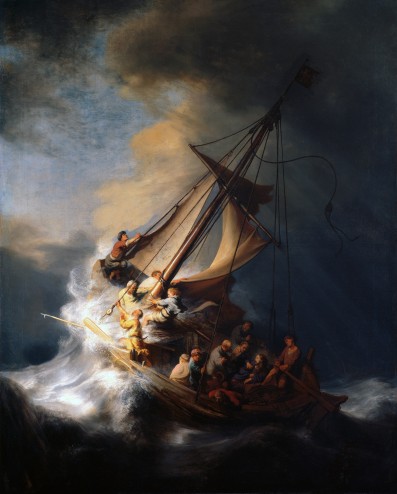 Rembrandt van Rijn, The Storm on the Sea of Galilee, 1633, oil on canvas, 63" x 50½" stolen from the Isabella Stewart Gardner Museum, Public Domain via Wikimedia Commons.