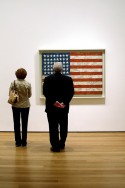 Jasper Johns' paintings made reference to popular or commercially produced imagery and then pulled it into the realm of high art.  Johns created an  American flag using an expressionistic application of paint, which signified high art in the 1950's when Abstract Expressionism dominated the art scene in New York City.
Using an encaustic technique, mixing wax and paint, Johns was able to add texture and translucency to his recreation of the flag.  In doing so, Johns created a tension between the everyday and fine art, the mass produced and the handmade.
The result is a painting that is emotionally cool and highly cerebral.
Jasper Johns, Flag, 1954-55, encaustic, oil, and collage on fabric mounted on plywood, 42¼" x 60⅝", Museum of Modern Art, New York, Photo by Diego López, Flickr, Creative Commons Attribution License.

Visitors at the Museum of Modern Art in New York admire Flag by Jasper Johns, Photo by Leo Reynolds, Flickr, Creative Commons Attribution License.