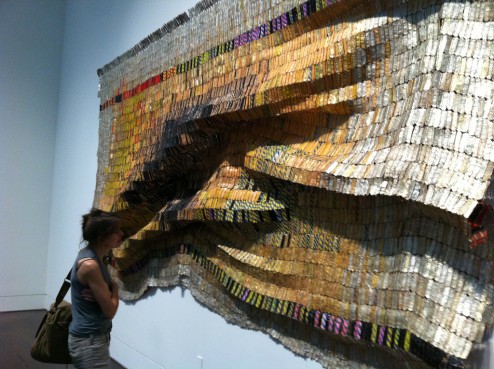 Currently on view at the Blanton Museum of Art are stunning works of art by the contemporary artist, El Anatsui.  Lisa Binder from The Museum of African Art in New York City curated the exhibition entitled, El Anatsui: When I Last Wrote to You About Africa,which will be on view at The Blanton Museum of Art in Austin through January 22, 2012.
El Anatsui was born in Ghana, but now is based in Nigeria.  He has enjoyed a long and prolific career creating beautiful sculptures, paintings, ceramics, and metal wall hangings.  More recently, he worked with found objects, producing striking installations made with the bottoms of cans and gorgeous tapestries using metal strips from the tops of liquor bottles.  These works of art, while glorious in their visual impact, tell a dark story, bearing witness to an African cultural history transgressed by European colonialism.
Spending time with El Anatsui's works of art is a unique and valuable experience.  Bring the family; my children loved the exhibition.